Pocket Watch Store
Modern. Stylish. Unique.
About us
---
The Pocket Watch Store. Home of modern, cool and unique pocket watches
.
---





call us on
0844 357 9293
If you need any assistance
About Us
Welcome to the
Pocket Watch Store
– online suppliers of affordable yet unique pocket watches, pendant watches and fob watches.
We pride ourselves on providing great value, great customer service and above all great quality
pocket watches
.
Whilst traditional pocket watches have been around for centuries, modern pocket watch designs have become more and more interesting and fashionable. We strive to bring you the best of modern pocket watches at a reasonable price.
Which pocket watch suits you?
There are a wide variety of types, styles and colours to choose from, and which watch suits you will depend on personal taste.
At the
Pocket Watch Store
we try to cater for all occasions.
Pocket Watch Styles
The classic, or traditional, pocket watch has been around for hundreds of years. Round and flat in shape and sized to fit in a traditional waistcoat pocket, most would have taken the form of a plain silver, gold or bronze colour with a matching pocket watch chain. Indeed the classic pocket watch and chain style remains the most popular type to this day, where the vintage feel and look can be relied on as the timepiece of choice for any occasion.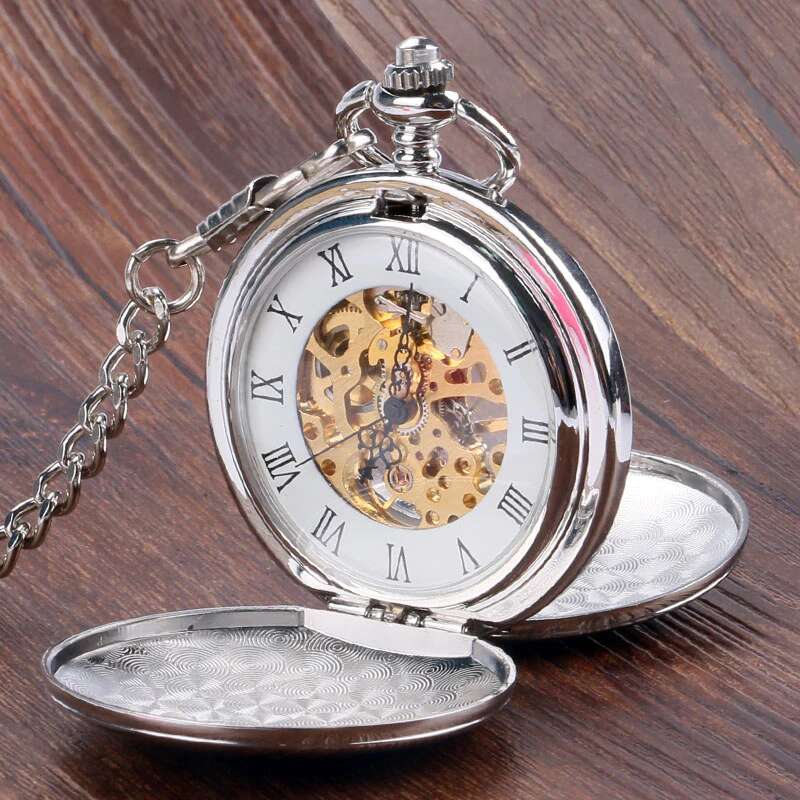 With pocket watches making a comeback, today's consumers are increasingly looking for something different and unique. Not only have the mechanics, materials and features become more advanced but styles and designs have become more sophisticated. Different themes, such as a wooden or
black pocket watch
, are becoming more popular, and added touches such as personalised or
engraved pocket watches
, especially for events such as weddings and birthdays, are increasingly in demand.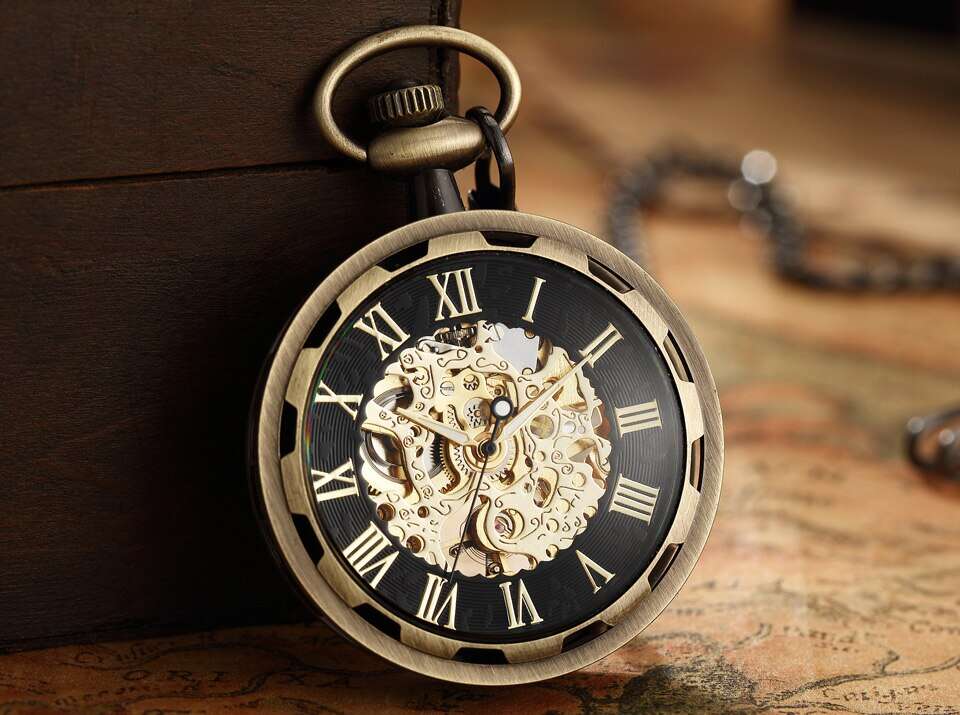 With popular UK period dramas and shows such as Peaky Blinders, Poirot and Sherlock Holmes showcasing the use of pocket watches, there has been an upsurge in demand for the retro style pocket watch with chain. These designs are also commonly referred to as steampunk pocket watches and are loosely based on a gothic / neo-victorian style which has become hugely popular in the last decade or so.
Types of Pocket Watch and Chain
The open face is the simplest form, with no lid to the front or rear. This means the face is instantly visible when viewed and is regarded as the perfect choice for those wanting a functional and practical timepiece.
The full hunter has a lid at the front to protect the watch face. It requires opening in order to reveal the watch front itself and provides the opportunity for more detailed design features on the lid to distinguish it from the open face version.
The half hunter is similar to the full hunter pocket watch except it also incorporates an open or glass viewing window on the front lid in order for the wearer to be able to quickly glance the time without opening the front cover.
The double hunter has both a front and back protective case, allowing the wearer to open and view not only the watch face but also the internal working mechanisms through a rear window. An additional feature is that when both casings are open the double hunter pocket watch can stand up on it's own and subsequently makes for a stylish decorative piece.
The double half hunter is similar to the double hunter in that it has casing to the front and the rear but with a viewing window for quick access for viewing the time at the front only. This gives additional stylistic leeway to create more intricate designs on the rear case.
A skeleton pocket watch is normally one which displays the inner mechanics of a watch, usually at both the front and the rear
Pocket Watch Movements
Mechanical Pocket Watch
A mechanical pocket watch is the traditional and original form where the components are powered by using a manual hand winding technique. The process needs to be regularly repeated in order for the correct time to be maintained. This style of watch is especially suited to the skeleton and double hunter types.
Quartz Pocket Watches
A quartz pocket watch is a more modern type whereby the watch is powered by an internal battery. Quartz versions are also sometimes referred to as automatic pocket watches, and are easily distinguishable to mechanical watches due to having a ticking motion, and do not require manual hand winding. The process works by the battery sending an electrical current to a quartz crystal which in turn powers the movement.
For those seeking a more eco-friendly pocket watch, we also have a range of wooden pocket watches which are not only a great looking accessory but are also made from sustainable wood, thereby making the perfect choice for those wishing to help the environment in every small way.